Taking stock of the tumultuous, quite unprecedented London Ontario real-estate market means pausing for a breath and zooming out a bit to gain a bit of perspective as we head into 2023. Cutting through all the noise and looking at the data, we can see that even though this year's painful price drop was large and fast, homes are still priced 40% higher even after popping the pandemic bubble.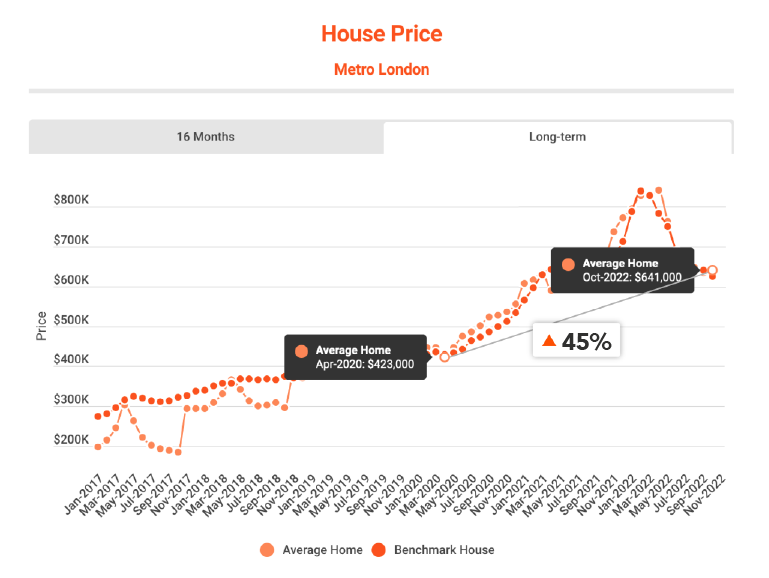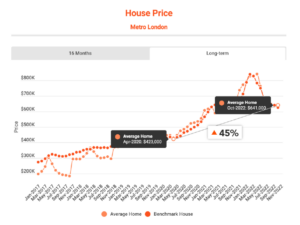 Consensus seems to be that we've seen the most of this correction, and with that behind us, at worst there will be further softening into the spring depending on local market conditions. The first resale increase in eight months occured in October across Canada to 424,600 units (seasonally adjusted and annualized). This potentially signals market activity is nearing a bottom after sliding 36% over the previous seven months. Not to conflate market activity with values, property values have also fallen the least since May, possibly marking the latter stages of this downturn. It's the interest rates that complicate things further.
It shouldn't be a surprise that uncontrolled spending will cause issues, as it shouldn't to realize cost of ownership can double with the interest rates that have rocketed to try to control inflation. It may have been cheaper to own a home in 2019 than in 1996, with average values at $199,857 resulting in a monthly mortgage payment of $1,525.34 under the eight percent interest rate. Fast forward to 2021, average values of $639,745 would result in a monthly payment of $2,709 under a two per cent interest rate. That's a tripling in home value with mortgages only growing by half.
And while the short-term picture may seem murky, the fundamentals of the London market have not changed. The housing shortage is still dire, and historic immigration levels coupled with London remaining more affordable than communities closer to the Greater Toronto Area, pent up demand is only getting worse. The rebound depends more on when the Bank of Canada ends its aggressive run-up of interest rates more than anything else.
CMHC reports that once interest rates stabilize, home-buying demand should return, putting upward pressure on prices again by summer. Renters boxed out of the ownership and those waiting on the sidelines for market conditions to stabilize, will be leaping in markets like London first, where there is far more value to be had compared to higher priced regions. Forecasts range from a 2-8% rise in average home prices nationally in 2024. This would mean home values in markets like London's should be seeing that kind of growth starting in the latter half of 2023. With lead times for new homes being what they are, it makes perfect sense to start shopping with home builders that can now price fairly in the current market conditions, as with any new developments coming online in the latter half of next year will be on the rise again. Every homeowner's finance and lifestyle is their own, so it doesn't make sense to generalize, but one thing is certain regardless of market conditions- working with a builder that will provide the most value for your investment at the time both in the lot and the build is key.
Some links for your reference:
https://wowa.ca/london-housing-market
https://www.mortgagesandbox.com/london-real-estate-forecast
https://thoughtleadership.rbc.com/beginning-of-the-end-for-canadas-housing-market-downturn/
https://www.cbc.ca/news/canada/london/london-ontario-real-estate-1.6384182
https://london.ctvnews.ca/london-ont-housing-market-in-flux-1.6072266