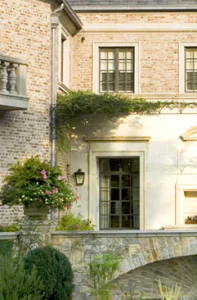 The cultured elegance of English exterior styling has become a favourite, considering our climate, environments and surrounding colours. The look of reclaimed brick and aged limestone, especially of light earthy tones were our choice of being both very sophisticated and fitting in. (A Mediterranean can stick out like a sore thumb in certain neighborhoods).
Perfectly proportioned, a staunch entry-way with a solid wood door "grounds" the whole façade, and draws you in.
In every single one of my wanderings through London, the use of greenery always impressed me, it seems they're as good with shrubbery as the Italians are putting the perfect flowers in the perfect window at the perfect angle. Climbing ivy and large flower trays under windows seem to add so much history.
To create the character we're after, Permacon stone manufactures a stone that when mixed in the right ratio of sizes, laid square and over-grouted, creates that exact feel of permanence we're after.
Very large chimneys add loads and loads of character, and positioned carefully make the home look very significant. They work especially well with bungalows.
Limestone in our opinion is one of the most timeless and impressive exterior materials. Lasting for centuries, it has been used on most of the historical monuments remaining. The exorbitant price of carved limestone is the major drawback, although faux limestone stucco can be an alternative that can mimic the style. (We are working on a direct sourced limestone alternative that can cut costs significantly),
Rooflines significantly affect the aesthetics of any home, especially when it essentially becomes half of what you see. Proportions and angles are paramount, and the material used, (a gray slate look in our case) are one of the most obvious features. (No mention here of cost, framing, or ice build-up considerations)
The use of different shapes that work together to create little nooks and crannies such as the arches over the garage doors (taking advantage of the viewing angle as well) can add that touch of charm and complexity that make a home look like it was built when there was time to build properly.
The two homes below are both new, yet I'm sure you were sure the first one was. We don't want that when we build this façade. It really seems like one has more soul than the other. Even though both homes were built with the same goal in mind. Character, soul, personality… its what we're after.